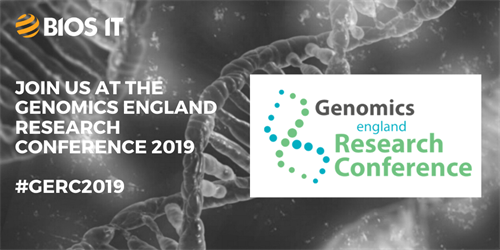 Genomics England Research Conference
BIOS IT will exhibit at the inaugural Genomics England Research Conference today, on November 4th at Central Hall, Westminster. The inaugural Conference will showcase world-leading research that is being done with the data from the 100,000 Genomes Project.
100,000 whole genomes have now been sequenced from NHS patients to harness the potential of genomic medicine. Commercial and academic research is integral to this effort and the conference will provide a meeting of the minds for GeCIP and Discovery Forum members, 100,000 Genomes Project participants and Genomics England staff. The agenda will include a plenary talk by Professor David Goldstein, Director of the Institute for Genomic Medicine at Columbia University and Chief Adviser for Genomics at AstraZeneca, followed by concurrent sessions of research talks selected from abstracts, submitted by GeCIP and Discovery Forum members as well as discussion panels, debates, stories from participants, as well as clinics and demos on the Genomics England Research Environment.
BIOS IT will showcase its range of optimised HPC and cloud solutions for genomics workloads, including Gene Genie and vScaler.
Start Date: Monday, 4 November 2019
End Date: Monday, 4 November 2019
Location: Central Hall, Westminster
Stand details: 9