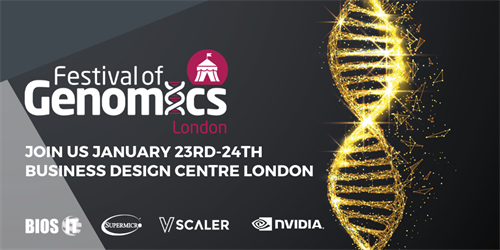 Festival of Genomics
Join us at the Festival of Genomics in London on January 23rd and 24th, where we will be showcasing our optimised solutions for the healthcare industry. The Festival is the home of European genomics and precision medicine and has been known to host government announcements, national strategies, international collaborations, and the very best research and technology from healthcare, industry, and academia.
BIOS IT will showcase Gene Genie an end-to-end ecosystem for Artificial Intelligence (AI) advancement in the healthcare industry. It combines leading GPU accelerator technology and intuitive scale-out storage in one platform for the analysis of Next Generation Sequencing (NGS) and medical image data.
We will also be on hand to discuss our broad range of GPU accelerated products, both on-prem and in the cloud, powered by Supermicro, NVIDIA and vScaler.
Contact us to arrange a meeting at the event, or follow us on Twitter and LinkedIn throughout.
Start Date: Wednesday, 23 January 2019
End Date: Thursday, 24 January 2019
Location: Business Design Center, London
Stand details: 67