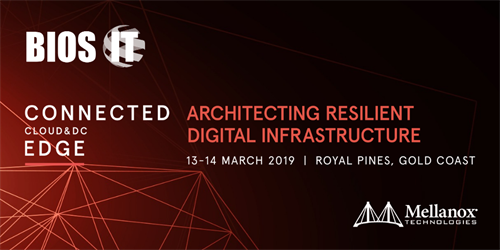 Connected Cloud and DC Edge
ADAPT Connected Cloud & DC Edge Event shares the insights of Australia's largest IT users, and DCs, with top speakers, analysts and senior executives from aligned solution providers.
Join BIOS IT, in partnership with Mellanox Technologies, to find out more about accelerating digital business innovation by eliminating network complexity. Our range of Open Networking Solutions and the benefits they can afford your organisation. Open Networking is fundamentally the disaggregation of hardware and software. This 'breaking of the mould' allows users the freedom to choose the perfect mix of commodity hardware, operating system and application stack which best suits their business needs.
The end result is a seamless flow of real-time data within your organisation, driving digital transformation initiatives and enabling your company to simplify, modernise and grow.
Schedule a meeting with us at the event to find out more, or stop by booth 24.
Start Date: Wednesday, 13 March 2019
End Date: Thursday, 14 March 2019
Location: Royal Pines, Gold Coast, Australia
Stand details: 24