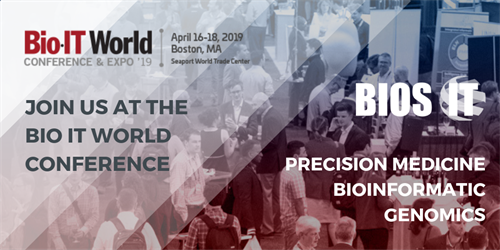 BIO IT World
Join us at the BIO IT World Conference and Expo 2019, at the Seaport World Trade Center in Boston on April 16th-18th. BIOS IT will be showcasing its suite of solutions for AI advancement in the healthcare industry, including Gene Genie, the BIOS ANNA and our DGX range from NVIDIA.
Bio-IT World Conference & Expo has established itself as a premier event showcasing the myriad of IT and informatics applications and enabling technologies that drive biomedical research, drug discovery & development, and clinical and healthcare initiatives. The Bio-IT World Conference & Expo continues to be a vibrant event that unites 3,400+ life sciences, pharmaceutical, clinical, healthcare, and IT professionals from 40+ countries.
Contact us to arrange a meeting at the event.
Start Date: Tuesday, 16 April 2019
End Date: Thursday, 18 April 2019
Location: Seaport World Trade Centre, Boston
Stand details: 232