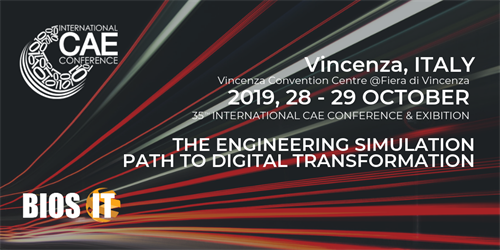 International CAE Conference
The 2019 CAE Conference will illustrate how and where engineering simulation, already pervasive in design and production processes and in the use of products themselves, is inextricably linked to the other Industry 4.0 technologies. It will also illustrate how engineering simulation dovetails with these technologies and the industrial processes where it plays a key role.
The event will be the opportunity for all sector stakeholders covering industry, academia, research and software vendors to increase the relevance of simulation.
Get in touch to arrange a meeting at the event to discuss any of our solutions in more detail.
Start Date: Monday, 28 October 2019
End Date: Tuesday, 29 October 2019
Location: Vicenza, Italy
Stand details: TBC