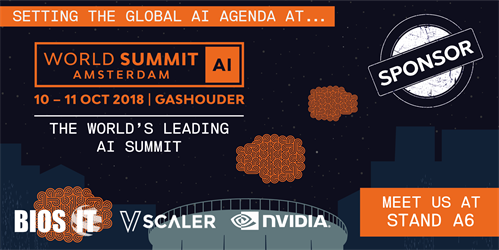 World Summit AI
Partnering with NVIDIA, BIOS IT is excited to exhibit at the World Summit AI in Amsterdam, on October 10th and 11th. The event promises to be the world's leading AI summit for the entire AI ecosystem, Enterprise, Big Tech, Startups, Investors and Science, expecting over 6000 attendees and 140 of the brightest brains on stage to tell you everything you need to know about AI.
From applied solutions for enterprise, to mind-boggling innovation, to heated discussions on AI ethics and AI4good, World Summit AI will tackle head-on the most burning AI issues for 2018 and beyond.
Join us on booth A6 where we will be on hand to discuss our innovative range of AI and Deep learning solutions. From HPC solutions optimised for machine learning, to Deep learning as a Service on our cloud platform in partnership with vScaler. Whatever your workload, we have the hardware, software and expertise to accelerate your time to results, powered by the latest generation NVIDIA Tesla® GPUs.
Contact us to arrange a meeting
Start Date: Wednesday, 10 October 2018
End Date: Tuesday, 11 September 2018
Location: Gashouder, Amsterdam
Stand details: A6