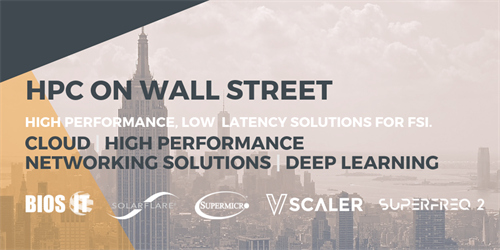 HPC on Wall Street
Join BIOS IT at HPC for Wall Street at the Roosevelt Hotel in New York, on September 13th, which promises to bring together thought leaders and industry frontrunners alike to share experiences and strategies that are setting the standards for Capital Markets today and in the future.
BIOS IT will showcase its latest high performance, low latency solutions for the Finance inustry, including a Deep Learning and AI cloud platform with partners vScaler. Virtualise your infrastructure and run any application at any scale with vScaler private cloud. With Deep learning platforms such as Tensorflow and Theano available at the click of a switch, and support for GPU acceleration and vGPU as native.
We are also excited to introduce SuperFreq 2 - stop by out booth to find out more about the latest generation SuperFreq solution.
Finally, in partnership with Solarflare, we will be discussing Solarflare SolarCapture - a product family that provides packet capture capability for a variety of network management applications including troubleshooting, regulatory compliance, monitoring service level agreements, security analytics, network forensics, record keeping, performance monitoring and tuning.
HPC on Wall Street 2018 is dedicated to showcasing tech innovation on Wall Street, making it the premier innovation event for the Financial Services Segment.
Start Date: Thursday, 13 September 2018
End Date: Thursday, 13 September 2018
Location: Roosevelt Hotel, New York
Stand details: TBC