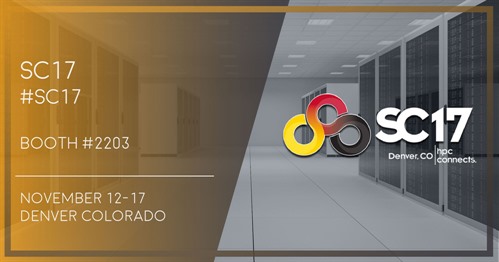 JOIN US AT SC17
Join us at SC17 on November 12-17, at the Colorado Convention Centre, Denver for the latest insights in high performance computing, networking, storage and analysis from the international HPC community.
BIOS IT brings years of experience in HPC and has worked with a number of the world's leading universities and research centres to enhance the speed of scientific discovery. Our world class HPC solutions come perfectly balanced with leading edge hardware and application specific software stacks tailor-made for your requirements. Combined with our in-house team of technical experts and support staff, BIOS IT can deliver our customers scalable, power efficient and reliable HPC solutions.
Get in touch to arrange a meeting at the event to discuss any of our solutions in more detail. Follow us on Twitter and LinkedIn throughout the event @BIOS_IT, #SC17.
Start Date: Sunday, 12 November 2017
End Date: Friday, 17 November 2017
Location: Colorado Convention Centre, Denver
Stand details: 2203