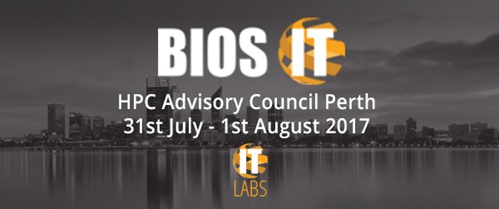 HPC Advisory Council Conference
Join us at the HPC Advisory Council Conference in Perth from July 31st to August 1st. The HPC Advisory Council's mission is to bridge the gap between high-performance computing (HPC) use and its potential, bring the beneficial capabilities of HPC to new users for better research, education, innovation and product manufacturing.
BIOS IT will be presenting insights into the industry's most leading-edge technologies and how these are being implemented into HPC clusters and enterprise datacentres.
Register to attend for free, and join BIOS IT at 2pm on July 31st for our talk on Industry Insights, with real world examples of how BIOS IT solutions are being used for HPC workloads. Follow us on Twitter and LinkedIn throughout the event.
Start Date: Monday, 31 July 2017
End Date: Tuesday, 1 August 2017
Location: Pawsey Supercomputing Centre, Perth
Stand details: TBC