BIOS IT Blog
Keep up-to-date with everything that's happening at BIOS IT
GTC 2020 Roundup
On Monday, NVIDIA kicked off their annual GPU Technology Conference (GTC) with a keynote from CEO Jensen Huang, who outlined a sweeping vision for the "age of AI". In our GTC roundup blog, we highlight the key announcements from the conference, including major announcements in data centers, edge AI, collaboration tools and healthcare.
Throughout the keynote, the underlying story was pretty clear: AI is changing everything, which this has put NVIDIA at the intersection of changes that touch every facet of modern life.
"NVIDIA is a full stack computing company – we love working on extremely hard computing problems that have great impact on the world – this is right in our wheelhouse," Huang said. "We are all-in, to advance and democratize this new form of computing – for the age of AI."
---
The Accelerated Data Center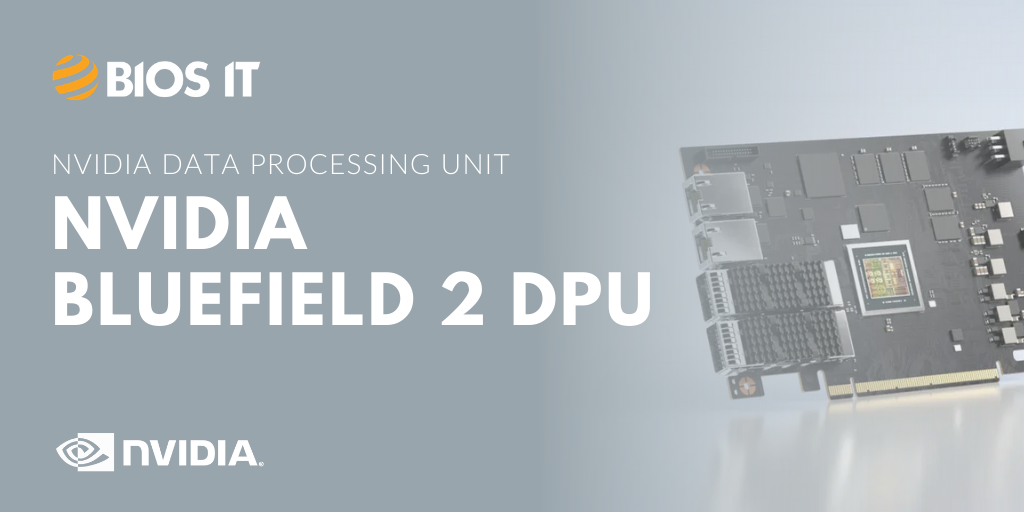 The focus on software defined infrastructure at the Data Center end is driving demand for a new type of processor, which NVIDIA are referring to as the 'data processing unit' or DPU. The new NVIDIA BlueField 2 DPU is a programmable processor with powerful Arm cores and acceleration engines for at-line-speed processing for networking, storage and security.
"The data center has become the new unit of computing," said Huang. "DPUs are an essential element of modern and secure accelerated data centers in which CPUs, GPUs and DPUs are able to combine into a single computing unit that's fully programmable, AI-enabled and can deliver levels of security and compute power not previously possible."
A single BlueField-2 DPU can deliver the same data center services that could consume up to 125 CPU cores. This frees up valuable CPU cores to run a wide range of other enterprise applications.
Contact us to find out more about our adoption plans for DPU technology.
---
Edge AI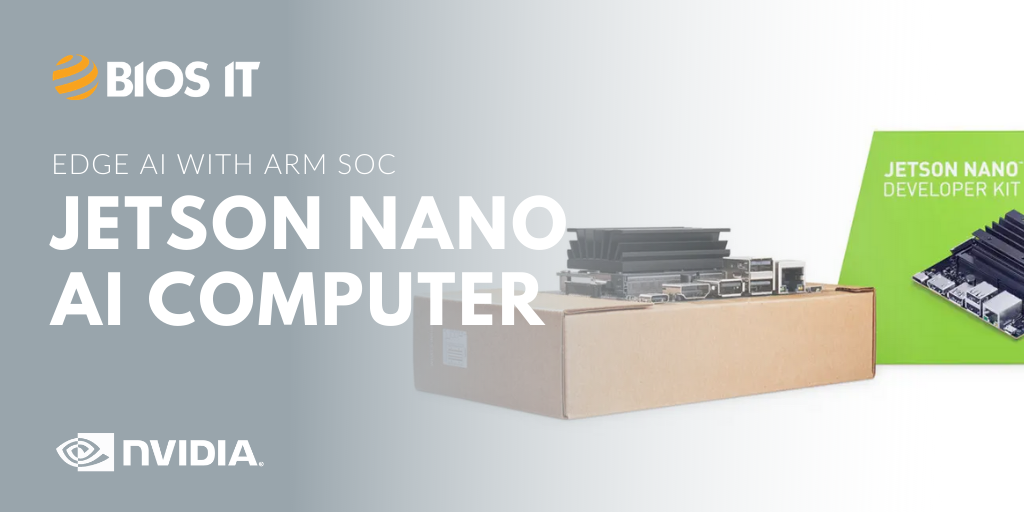 Huang also announced new pricing for the Jetson Nano 2GB - the latest addition to the Jetson famiy. Jetson is an Arm-based SoC designed from the ground up for robotics.
That's thanks to the sensor processors, the CUDA GPU and Tensor Cores, and, most importantly, the richness of AI software that runs on it, Huang explained.
Now available for $59, thats half the cost of the developer kit that was announced last year.
---
Healthcare
COVID-19 has further highlighted the need for new accelerated drug discovery tools within healthcare. To accelerate research into diseases such as COVID-19, NVIDIA announced Clara Discovery - a state-of-the-art suite of tools for scientists to discover life-saving drugs. Clara Discovery is optimised to run on NVIDIA DGX™ A100 and brings together the power of imaging, radiology and genomics to develop AI applications for the biggest computational tasks of healthcare
"Where there are popular industry tools, our computer scientists accelerate them," Huang said. "Where no tools exist, we develop them — like NVIDIA Parabricks, Clara Imaging, BioMegatron, BioBERT, NVIDIA RAPIDS."
NVIDIA also announced they are building the UK's most powerful Supercomputer, dedicated to helping healthcare researchers use AI to solve pressing medical challenges such as COVID-19. The "Cambridge-1" supercomputer is expected to come online by year end and will be an NVIDIA DGX SuperPOD™ system which will be capable of delivering more than 400 petaflops of AI performance and 8 petaflops of Linpack performance. This will make it rank among the world's top 3 most energy-efficient supercomputers on the current Green500 list.
---
ARM
Huang covered NVIDIA's recent acquisition of ARM, the U.K. semiconductor company and NVIDIA's major initiative to advance the Arm platform across three dimensions:
To complement Arm partners with GPU, networking, storage and security technologies to create complete accelerated platforms
To work with Arm partners to create platforms for HPC, cloud, edge and PC — this requires chips, systems and system software.
To port the NVIDIA AI and NVIDIA RTX engines to Arm
"Today, these capabilities are available only on x86," Huang said, "With this initiative, Arm platforms will also be leading-edge at accelerated and AI computing.
---
Ampere Architecture GPUs for Professional Designers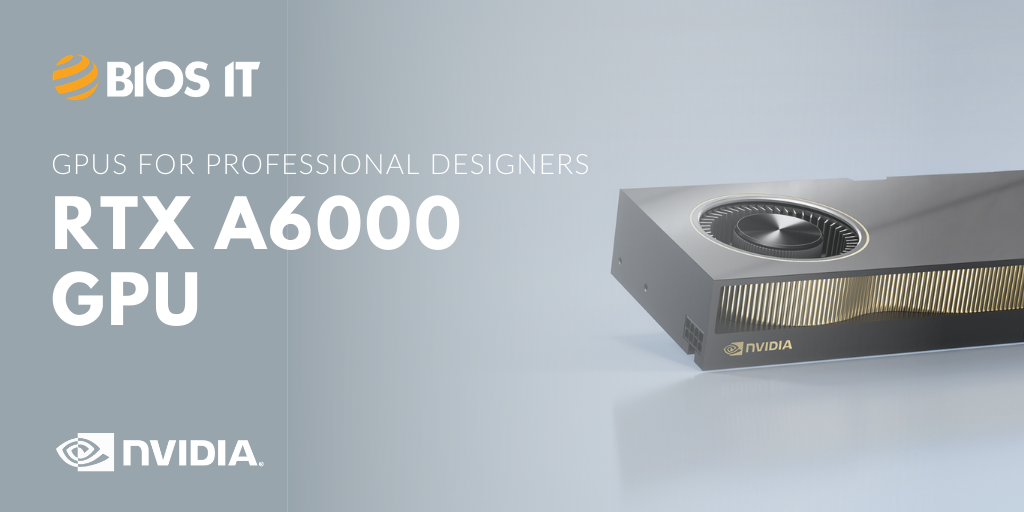 RTX A6000 GPU
Also at GTC, NVIDIA introduced a new flagship GPU for creators - the RTXA6000, built on the new NVIDIA Ampere architecture, allows creators to complete complex creative tasks, such as video editing in 8K HDR in real-time and animating extra-large 3D models. With 48GB, it offers the largest memory available in a single GPU and is expandable to 96GB using NVLink to connect two GPUs.
The RTX A6000 promises to unlock new levels of ray-tracing performance with dedicated RT Cores and improved CUDA performance speeding 3D rendering times by up to 2x across top renderers
The NVIDIA A40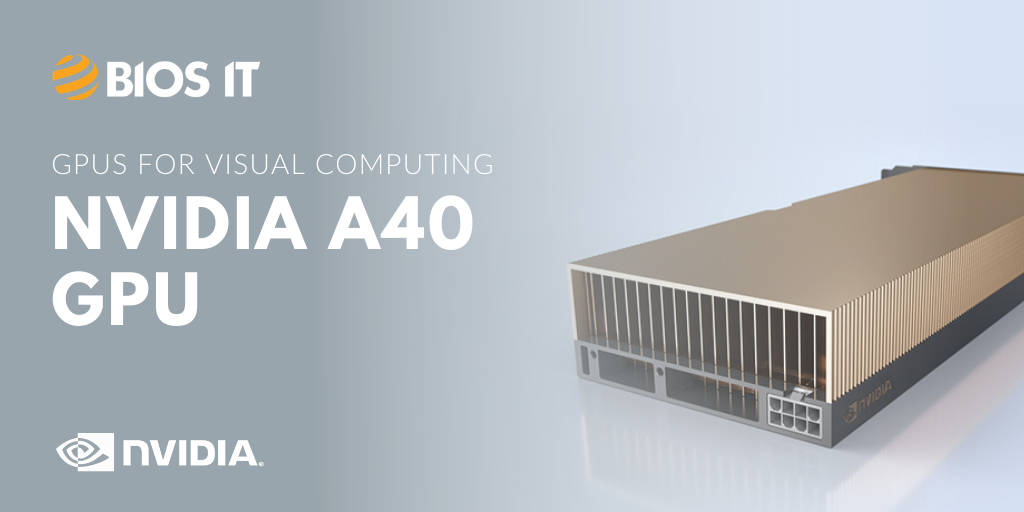 The NVIDIA A40 GPU is an evolutionary leap in performance and multi-workload capabilities from the data center, combining best-in-class professional graphics with powerful compute and AI acceleration to meet today's design, creative, and scientific challenges. Driving the next generation of virtual workstations and server-based workloads, NVIDIA A40 brings state-of-the-art features for ray-traced rendering, simulation, virtual production, and more to professionals anytime, anywhere.
To discuss these announcements and more, get in touch today with a BIOS IT sales representative. Missed the keynote announcements? You can watch it on demand courtesy of NVIDIA here.
Not what you're looking for? Check out our archives for more content
Blog Archive
From Silicon to Cloud
Turnkey IT Solutions that scale to meet customers needs