BIOS IT Blog
Keep up-to-date with everything that's happening at BIOS IT
PanFS® parallel file system featuring Dynamic Data Acceleration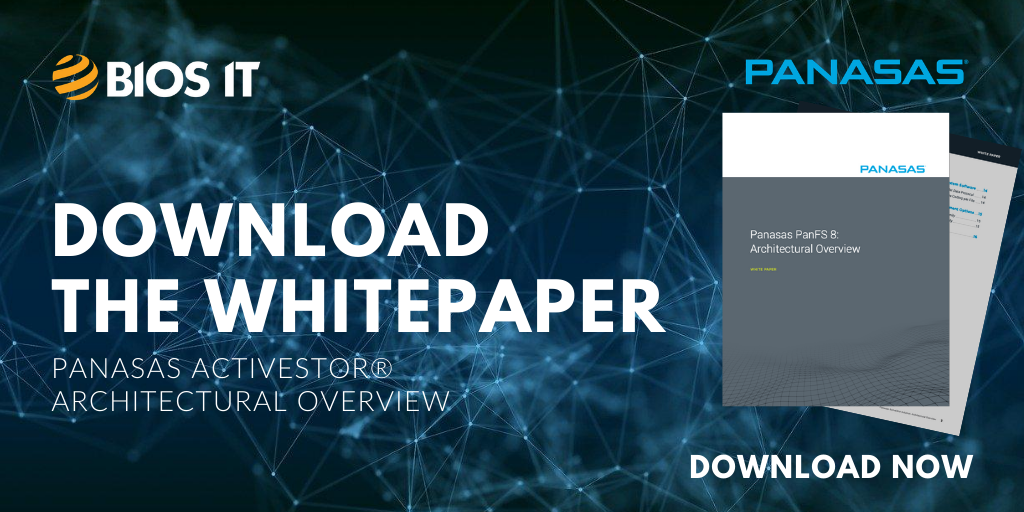 The PanFS® parallel file system delivers the highest performance among competitive HPC storage systems at any capacity, and takes the complexity and unreliability of typical high-performance computing (HPC) storage systems off your hands, and it does so using commodity hardware at competitive price points.
PanFS was the first storage system designed with the parallel file system architecture that is the de facto dominant storage architecture in HPC systems to this day. While the foundation for PanFS was laid over 20 years ago, the file system continues to adopt the latest technology advancements to provide the exceptionally high performance, reliability and low-touch administration our customers have come to expect and rely upon.
In the latest version of PanFS® on the ActiveStor Ultra, Panasas have introduced Dynamic Data Acceleration Technology, which uses a carefully balanced set of HDDs, SATA SSD, NVMe SSD, NVDIMM, and DRAM to provide a combination of excellent performance and low cost per TB.
Inconsistent performance and lack of adaptability in the face of change has been a major headache for both application users and storage administrators. PanFS with Dynamic Data Acceleration eliminates this headache by providing HPC and enterprise IT organizations with a high-performance plug-and-play storage solution that keeps up with their pace of change.
PanFS' focus on reliable and consistent performance at low administrative costs is in stark contrast with the traditional HPC systems where price-performance is traded for complexity, instability, rigitity and outages. PanFS with Dynamic Data Acceleration offers a low complexity, low touch, reliable HPC storage system that delivers consistent and fast total-performance by automatically adapting to changing file sizes and workloads without tuning or manual intervention.
Installing a PanFS realm for your HPC storage puts you on an accelerated path to meet your organization's goals: faster time to insights, higher quality products, and lower total costs.
Not what you're looking for? Check out our archives for more content
Blog Archive
From Silicon to Cloud
Turnkey IT Solutions that scale to meet customers needs