BIOS IT Blog
Keep up-to-date with everything that's happening at BIOS IT
What is ISV Certification? And why is it integral for CAE?
What is ISV Certification and why is it important in HPC?
Independent Software Vendor (ISV) Certification, means that industry leading CAD, CAE, 3D and CFD software developers have tested their applications against the hardware and can vouch for its performance claims and reliability – essentially giving the server their stamp of approval.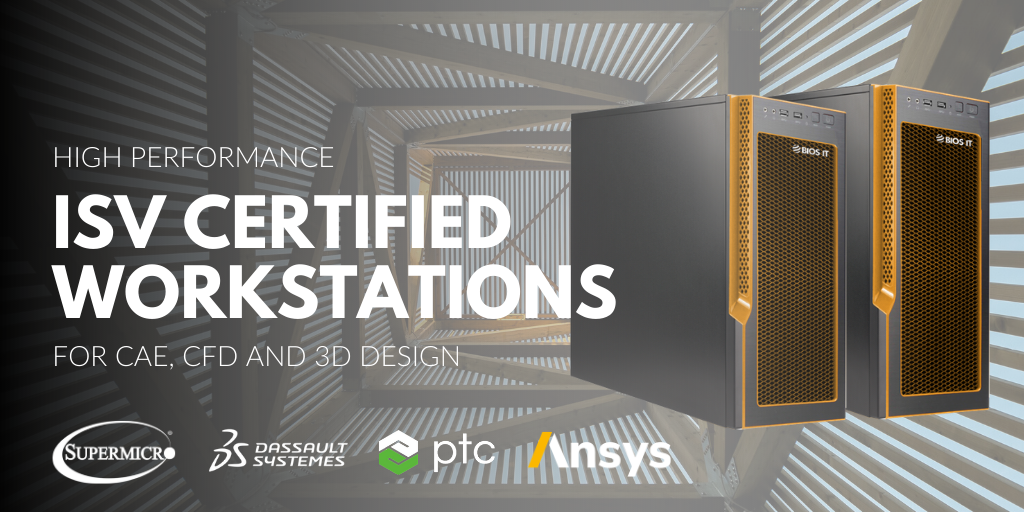 For design and engineering houses running CAD and 3D design workloads, the certification is integral as it ensures that demanding and resource intensive applications will run smoothly, right out of the box, and guarantees a high-quality user experience.
BIOS IT can offer a range of workstations, that have been tested, proven, and certified by Independent Software Vendors (ISVs) to deliver peak performance for key applications.
Ansys Certification
Engineers need to design new products that work right the first time to get them to market before the competition. You also need to be sure that they will continue to work reliably over the expected product lifetime. Ansys solutions involving any area of physics — structures, fluids, electronics — or any combination of these physics, give you the speed and confidence you need to meet these product development goals. Ansys's world-leading engineering simulation software is the proven best choice for the toughest design challenges.
PTC Creo Certification
Now more than ever, product design & manufacturing teams are expected to create products more efficiently & cost effectively, without sacrificing innovation or quality. Fortunately, Creo delivers the most scalable range of 3D CAD product development packages & tools in today's market. Featuring breakthrough innovations in the areas of generative design, real time simulation, multibody design, additive manufacturing and more! Take your products from concept to digital prototype efficiently, precisely and intuitively.
Dassault Systémes Certification
Dassault Systemes, the 3DExperience company, provides businesses and people with virtual universes to imagine sustainable innovations. Their software portfolio is comprised of 3D modeling applications, simulation applications creating virtual twins of products or production systems, social and collaborative applications, and information intelligence applications.
For more information on these high performance workstations, click here
Or to discuss your unique requirements, get in touch.
Not what you're looking for? Check out our archives for more content
Blog Archive
From Silicon to Cloud
Turnkey IT Solutions that scale to meet customers needs