BIOS IT Blog
Keep up-to-date with everything that's happening at BIOS IT
Supermicro Introduces - Outdoor Edge Systems
Supermicro has announced new solutions for 5G cell tower deployments leveraging fully configurable SuperServers based on 2nd Gen Intel Xeon Scalable processors, O-RAN compliant partner software, and ability to operate in harsh environments - available from BIOS IT.
The new edge servers can utilize up to three PCIe Gen3 to add accelerators such as FPGAs and GPUs. Supermicro is highlighting Intel FPGAs and NVIDIA GPUs such as the NVIDIA Tesla T4. For storage, these new systems have a traditional 2.5″ SSD form factor as well as M.2 and EDSFF SSD form factor capabilities.
Based on Supermicro's Building Block Solutions®, these 5G systems can be configured with a variety of processor and memory combinations so that customers can tailor their solutions to push data centre remote management to the intelligent edge.
5G RAN

· Virtualized network element such as DU

· FPGA accelerator card

· O-RAN or other NFV software stack

· Allows widespread network deployment and upgrades

Edge AI Inferencing

· Local processing for smart city and industrial

· GPU accelerator card

· EGX or other AI software stack

· Enables rapid decisions for real-time applications

Video

· Localized content delivery

· Maximum memory and storage

· Containerized video transcoding platform

· Supports multiple end devices with dynamic content formatting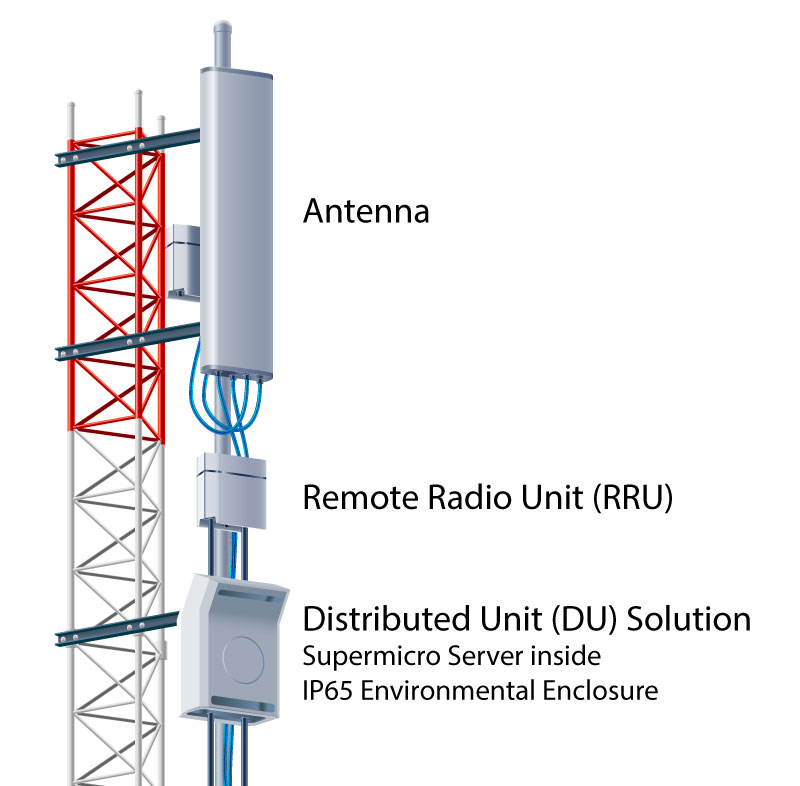 Supermicro is a market leader in delivering high-performance, power-efficient open hardware server platforms extending the data center level remote management to edge computing platforms, and has deep experience with virtualization and containers, including software such as Kubernetes and VMware. The new 5G architecture is based on open hardware platforms connected by standardized interfaces, and virtualized network elements. Supermicro joined the O-RAN Alliance to help build a cloud-native, open 5G RAN architecture, and these solutions will concurrently support 4G as networks transition to 5G.
The 5G core network has moved to a virtualized model, which runs on data center hardware where Supermicro's Resource-Saving Architecture provides innovative computing platforms such as the high-performance multi-node BigTwin™ and the high-density SuperBlade™ and MicroBlade™ products. These systems leverage shared cooling and efficient power, and feature a disaggregated structure to enable the latest upgrades without the wasteful rip-and-replace of entire server racks.
For more information about outdoor-edge click here.
These rugged servers being introduced build on Supermicro's comprehensive 5G and Edge computing portfolio, including the E403-9P-FN2T and the 1019P-FN2T systems introduced in 2019, and complement the company's high-performance products for the data center such as the multi-node BigTwin™ and high-density SuperBlade® and MicroBlade™, which can support the virtualized 5G network core.
BIOS IT CAN OFFER AN EXTENSIVE PORTFOLIO OF ADVANCED 5G SOLUTIONS
| | | | | |
| --- | --- | --- | --- | --- |
| | | | | |
| Multi-Access Edge Solutions | Single Socket Solutions | BigTwin™Solutions | SuperBlade® Solutions | MicroBlade™ Solutions |
Request a callback
Not what you're looking for? Check out our archives for more content
Blog Archive
From Silicon to Cloud
Turnkey IT Solutions that scale to meet customers needs