BIOS IT Blog
Keep up-to-date with everything that's happening at BIOS IT
Test Drive the IBM Power System AC922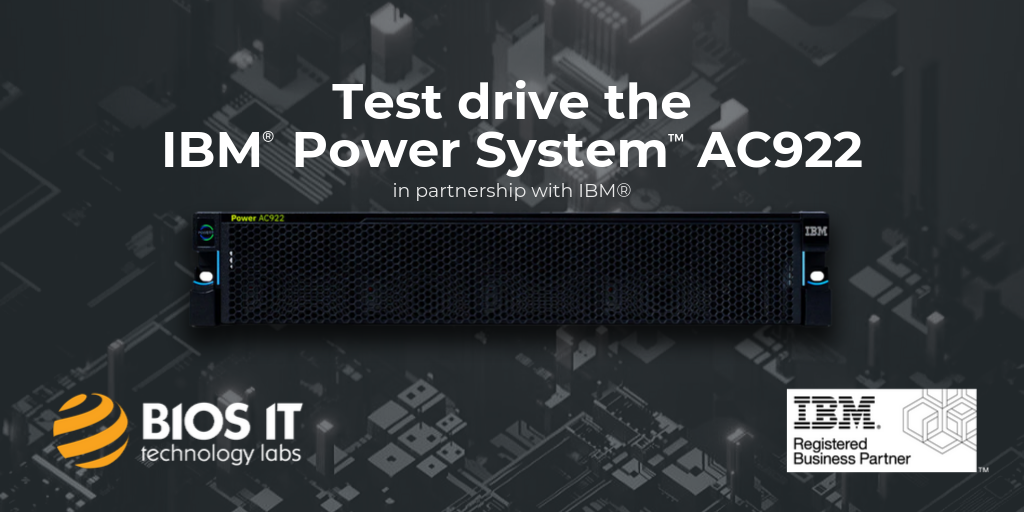 As AI initiatives shift from backroom experiments to boardroom imperatives, many organizations find their existing infrastructure ill-suited to help them make the journey. IT leaders are now under pressure to implement untested tools, circumvent proven processes, and shrink the timeframe from beta to production. Organizations that do not evaluate their existing IT infrastructure, ensuring it is appropriate fo Enterprise AI, will risk getting caught in an endless loop of failed experiments.
Off the back of BIOS IT's recent partnership announcement with IBM - we are now offering our customers the option to test-drive the AC922 Enterprise AI solution at our labs' facility. The IBM Power System AC922 supports Enterprise AI initiatives throughout their lifecycle. With an optimized hardware and software stack, the AC922 delivers earlier prototypes and yields faster ROI. The world's only server enabling NVIDIA NVLink between CPUs and GPUs, the Power AC922 delivers 5.6x the data movement of x86-based servers. This I/O enables GPU-based algorithms to leverage system memory, enabling models up to 60x4 larger than x86 based systems. The Power AC922 delivers faster AI insights, providing up to 3.8x speedups for deep learning workloads. Proven as the backbone of the world's largest supercomputers, the Power AC922 is capable of meeting an enterprise's loftiest AI aspirations.
Why IBM?
IBM is a trailblazer in AI—From early machine learning system in IBM Research to Watson on Jeopardy, AI isn't just a buzzword for IBM. And we're applying that innovation to cognitive infrastructure, helping our customers on their journey to AI. IBM aligns cutting-edge innovation with enterprise dependability—IBM has over 105 years of aligning continuous innovation with our customers' business needs. IBM is a proven partner for the journey to enterprise AI—IBM provides the most flexible and comprehensive range of technology and services needed for an enterprise's entire journey to AI.
Register to test drive the IBM Power System AC922 at BIOS IT's Technology Labs by filling in the form below. Click here to find out more about BIOS IT's range of IBM solutions.
Not what you're looking for? Check out our archives for more content
Blog Archive
From Silicon to Cloud
Turnkey IT Solutions that scale to meet customers needs