BIOS IT Blog
Keep up-to-date with everything that's happening at BIOS IT
AMD EPYC™ 7002 Series Processor Solutions from BIOS IT
The latest best in class CPU architecture has been under development since early 2018 and we're excited to say our customers can now avail of the revolutionary AMD EPYCTM 7002 Series Processors.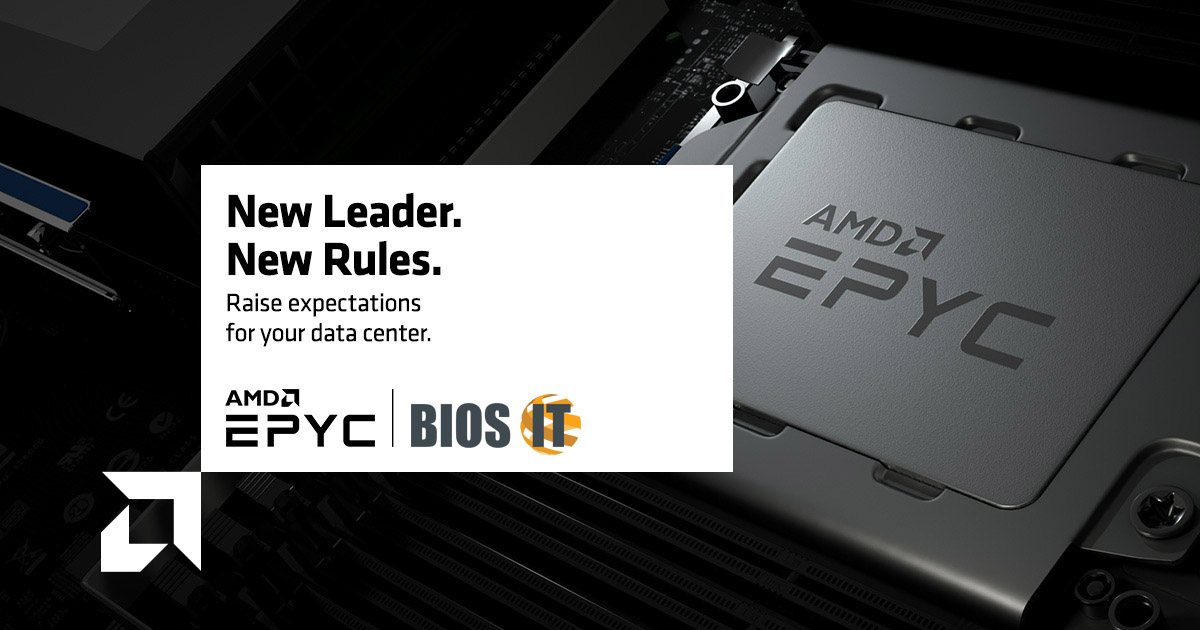 As the world's first x86 enterprise processor built on 7nm architecture, the AMD EPYCTM 7002 Series processor delivers a comprehensive, consistent feature set of I/O, memory and security enhancements, across 8 to 64 "Zen" 2 cores. Support for PCIe 4.0, (128 lanes in a single socket and 162 in dual), offers a massive increase in system throughput as well as the ability to add more peripherals per motherboard and facilitating future innovations.
"Driven by AMD's history of datacenter innovation, including 7nm process technology, first x86 supplier to support PCIe Gen 4, and embedded security protection, the AMD EPYCTM 7002 Series Processors set a new standard for the modern datacenter," said Scott Aylor, corporate vice president and general manager, Datacenter Solutions Group, AMD. "Together, these innovations deliver the breakthrough performance customers need."
SOLUTIONS & SPECIFICATIONS
Available from BIOS IT - contact us to discuss your requirements.
Contact your BIOS IT Sales rep today for a competitive quote or discuss your requirements for a tailor-made solution.
i Testing performed by AMD Engineering as of October 2018 using AMD reference system with a preproduction "Rome" engineering sample, where "Rome" scored approximately 2x higher compared to "Naples" System. Actual results with production silicon may vary. ROM-03
ii Estimated generational increase based upon AMD internal design specifications for "Zen 2" compared to "Zen". "Zen 2" has 2X the core density of "Zen", and when multiplied by 2X peak FLOPs per core, at the same frequency, results in 4X the FLOPs in throughput. Actual results with production silicon may vary. ROM-04 ii
Not what you're looking for? Check out our archives for more content
Blog Archive
From Silicon to Cloud
Turnkey IT Solutions that scale to meet customers needs