BIOS IT Blog
Keep up-to-date with everything that's happening at BIOS IT
2nd Gen AMD EPYC™ Processors: The New Standard for the Modern Data Center
New AMD EPYC™ 7002 Series Processors are The New Standard for the Modern Data Center. Featuring leadership architecture, performance, and security, 2nd Gen AMD EPYC™ processors help customers turbocharge their application performance, transform their data center operations, and help secure their critical data.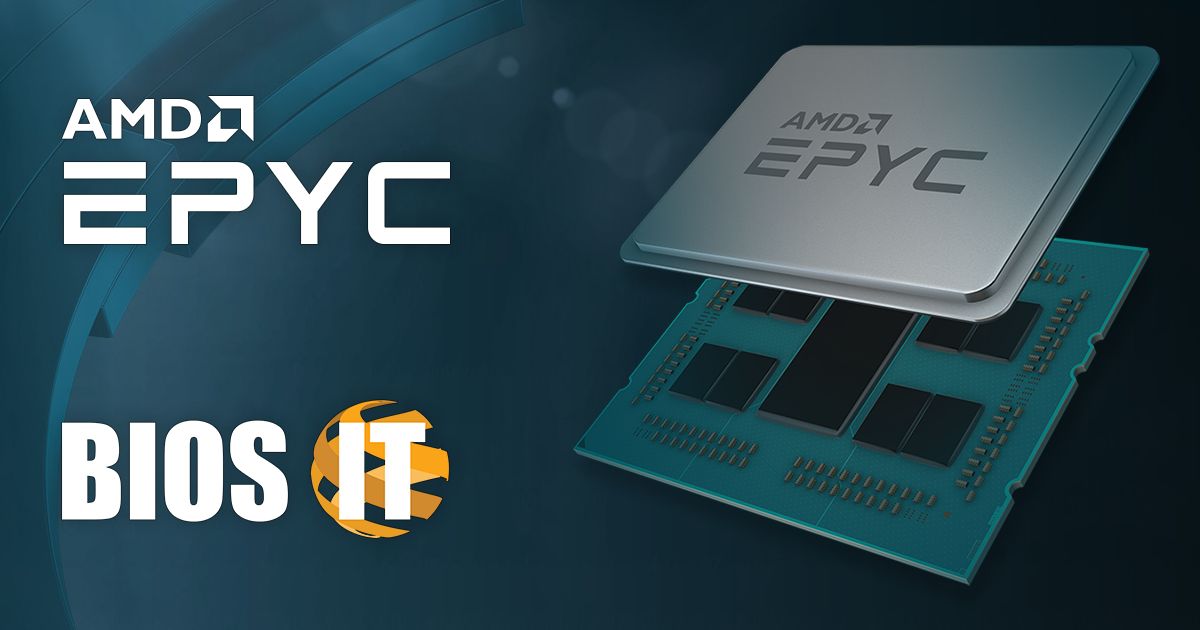 Leadership Architecture: AMD Infinity Architecture – The server architecture for next generation, high performance computing.
The AMD Infinity Architecture pushes the boundaries for x86 performance, efficiency, security, and overall system throughput to deliver on the promise of next generation high performance computing. Building on the legacy of AMD innovation, the AMD Infinity Architecture empowers system builders and cloud architects alike to unleash the very latest in server performance without sacrificing power, manageability, or the ability to help secure their organization's most important assets, it's data.
2nd Gen AMD EPYC™ Processors are the first x86 server processors featuring 7nm hybrid-multi-die design and PCIe® Gen46. The AMD EPYC™ Family continues to offer the most I/O and DRAM9 memory of any 86 processor.
PERFORMANCE OPTIMIZED: Powered by the roadmap of the AMD 'Zen' microarchitecture, AMD EPYC™ 7002 Series Processors now with the 'Zen 2' core achieve twice the core density. With up to 64 cores per SOC and "Zen 2" features, the EPYC™ 7002 Series surpasses the 1st Gen EPYC family with 2X Cores Per SoC, improved Execution Pipelines, higher frequencies, and up to 4X shared L3 Cache. The result, up to 4X theoretical peak FLOPS7 when compared to 1st Gen AMD EPYC™ Processors.
4. LEADING EDGE EFFICIENCY: AMD leads the industry when it comes to innovation that matters for data center computing. Whether it's process leadership with 7nm technologies delivering the same performance using half the energy8; or the unparalleled scale of AMD's Hybrid Multi-die Design packing more cores delivering up to 128 threads per socket, AMD EPYC is the right choice to optimize performance, scale and performance per watt for data centers of all shapes and sizes.
THROUGHPUT TO ACCELERATE RESULTS: Maximizing system throughput is the hallmark of the modern server. Take your performance beyond conventional constraints with AMD EPYC's superior memory and I/O throughput to supercharge your applications and IT productivity with:

Supports double the I/O performance of previous-generation processors

128 lanes of PCIe Gen 4 connectivity

PCIe Gen 46 to connect high speed GPU accelerators and blazing fast NVMe drives.

Integrated disk controllers to access disk drives without the bottleneck of a PCIe RAID controller.

HARDENED AT THE CORE: Help protect your critical data with AMD EPYC technologies for both physical and virtual threats. Powered by an industry-leading secure co-processor, AMD EPYC helps maintain a secure compute environment from power-on to runtime.
Leadership Performance: With up to 64 high performance cores per SOC, 2nd Gen AMD EPYC™ Processors deliver 80 and counting world record13 performances with 2.2 times generational performance increases3 outpacing Intel Xeon Platinum 8280L by up to 97%4.
2nd Gen AMD EPYC™ Processors power the highest-performing x86 servers for the modern data center with 80 and counting World Record performances across the major industry benchmarks.
Uniquely designed for modern data center workloads, AMD EPYC™ 7002 processors provide an ideal combination of features to help unlock performance and redefine economics in:

VIRTUALIZATION AND CLOUD: World record virtualization performances5 and core capacity help customers reduce TCO, increase revenue streams with existing capacity, and provide advanced security features to private and public cloud customers alike.
CONTAINERS AND MICROSERVICES: improve response time with high core-to-container ratios and near linear scaling of container capacity per server.
IN-MEMORY DATABASES: Massive memory footprint and industry leading I/O allow large numbers of NVMe drives for fast, in memory performance.
HPC: highest core count, highest DRAM capacity9, highest I/O capacity for GPU acceleration and highest-speed interconnect in the industry.
AI/ML WORKLOADS: More PCIe Gen4 lanes than any other x86 server processor12, able to support the most directly connected (without PCIe switch) GPUs per server in the industry.
Leadership Security: Featuring advanced security features and a silicon embedded security subsystem, AMD EPYC™ Family of Processors are
'Hardened at the Core' helping customers guard their most important assets, their data. New 2nd Gen AMD EPYC™ processors, now can cryptographically isolate up to 509 virtual machines per server using AMD Secure Encrypted Virtualization with no application changes required.
AMD EPYC™ Family of Processors help customers protect their most important assets, their data. From performance-optimized countermeasures to help prevent certain side-channel vulnerabilities, to proactive encryption in memory, AMD EPYC™ provides advanced protection at scale for modern data center computing.

HELP PROTECT YOUR BUSINESS-CRITICAL DATA with a comprehensive set of security tools. AMD developed a suite of processor-based encryption and security elements that help protect data breaches by encrypting it to help limit risk.

RESTRICT INTERNAL VULNERABILITIES with encrypted memory. Attacks on the integrity of main system memory (such as cold-boot attacks) are fruitless because any data that might be obtained is encrypted. No modifications to applications required.

SAFEGUARD VIRTUAL AND CLOUD INFRASTRUCTURE with built-in encryption for virtual machine memory. Help safeguard application privacy and integrity by enabling the encryption of each virtual machine and hypervisor using one of 509 available and unique encryption keys managed by a dedicated security processor.

SCRUTINIZE SOFTWARE BOOTS FOR CORRUPTION AMD EPYC enables a secure root of trust that validates the initial BIOS software boots to detect and help mitigate corruption.
Not what you're looking for? Check out our archives for more content
Blog Archive
From Silicon to Cloud
Turnkey IT Solutions that scale to meet customers needs