BIOS IT Blog
Keep up-to-date with everything that's happening at BIOS IT
BIOS IT announces availability of systems featuring AMD EPYC™ 7002 Series processors
Press Release, August 8th 2019, London: BIOS IT prides itself on being first to market with the latest technology and we are excited to announce general availability of our latest range of AMD EPYC™ processor solutions in partnership with Supermicro. Combining all the advantages of the latest AMD EPYC™ 7002 Series Processors, these servers enable customers to transform their infrastructure with the right resources to drive performance and reduce bottlenecks.
HPC Customers will be excited to hear that AMD EPYC™ 7002 Series Processors are expected to deliver up to 2X the performance-per socketi and up to 4X peak FLOPS (floating point operations per second) per-socketii compared to the AMD EPYC™ 7001 Series Processors. Floating point operations are the foundations of almost all HPC workloads. The increase in FLOPS (and therefor throughput) enables HPC customers to complete their workloads faster, leading to reduced overall TCO.
Delivering a comprehensive, consistent feature set of I/O, memory and security enhancements, across 8 to 64 "Zen" 2 cores, the AMD EPYC™ 7002 Generation Processors delivers better agility for customers. As well as being the world's first 7nm x86 datacenter CPU, the 2nd Gen AMD EPYCTM Processor is the first x86 processor to support PCIe®4.0 which offers a massive increase in system throughput facilitating future innovations.
For memory bound applications, the AMD EPYCTM 7002 Series Processor boasts 8 channels per socket with DDR4 support and delivers agility and increased compute density from a balanced set of attributes, as well as pervasive encryption that helps keep your applications and your business safe.
"We're excited and thankful to have our partners supporting the launch of AMD EPYCTM 7002 Series Processors," said Scott Aylor, corporate vice president and general manager, Datacenter Solutions Group, AMD. "Their EPYC based solutions are poised to deliver a new standard for modern datacenter customers. With twice the cores, breakthrough performance and embedded security features, all delivered by a leadership architecture, customers can transform their datacenter operations at the pace of their business."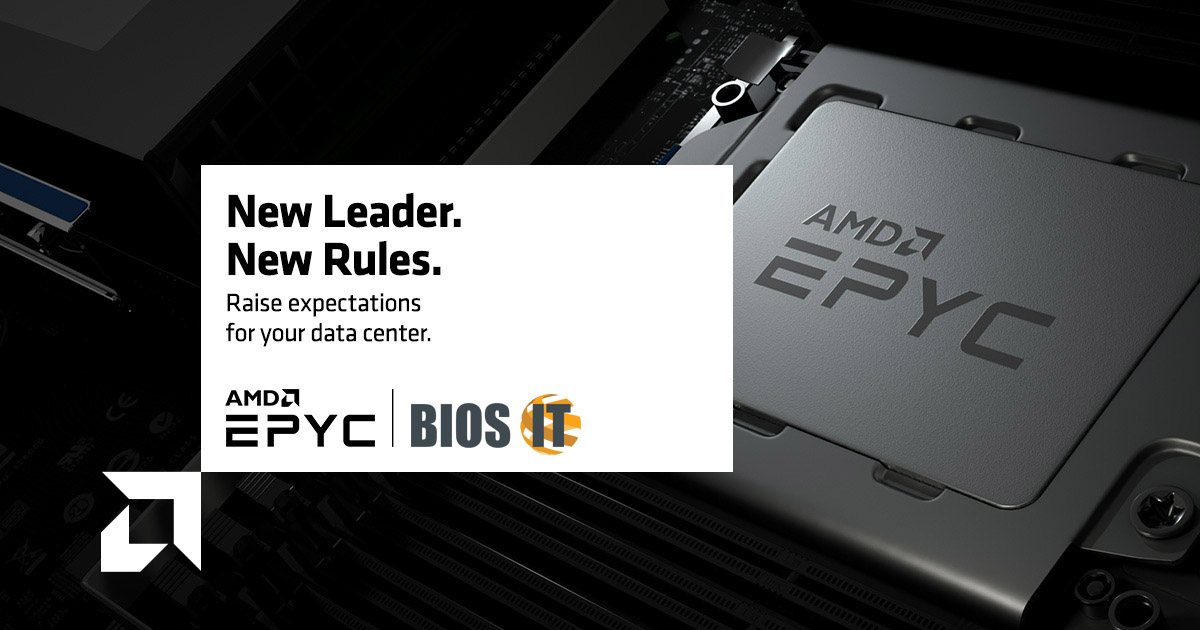 BIOS IT general manager Ian Mellett adds "BIOS IT is proud to partner with Industry disruptors AMD and to champion their technology on the global enterprise market. As official launch partners for AMD EPYC, we can enable our customers with the latest generation technologies that facilitate improved performance, along with a superior TCO for their businesses."
About BIOS IT
BIOS IT is a global design house, systems builder and integrated solution provider for enterprise performance computing. We construct bespoke clusters and appliances by hand picking the best components and newest technologies based on specific customer goals. We support well-known organisations at the top of their research fields, across science, engineering, academia and finance disciplines. Our comprehensive range of products and services include: high-performance enterprise servers, storage and networking, on-premise or in the cloud, with associated services, support, hosting and software.
AMD, the AMD Arrow logo, EPYC and combinations thereof are trademarks of Advanced Micro Devices, Inc. Other product names used in this publication are for identification purposes only and may be trademarks of their respective companies.
i Projections as of July 3, 2019 for AMD EPYC processors using computer modelling of preproduction parts and SPECrate®2017_int_base internal testing results. Results may vary with production silicon testing. EPYC 7601 results as of June 2019
http://spec.org/cpu2017/results/res2019q2/cpu2017-20190411-11817.pdf. SPEC®, SPECrate® and SPEC CPU® are registered trademarks of the Standard Performance Evaluation Corporation. See www.spec.org for more information. ROM-23
ii Estimated generational increase based upon AMD internal design specifications for "Zen 2" compared to "Zen". "Zen 2" has 2X the core density of "Zen", and when multiplied by 2X peak FLOPs per core, at the same frequency, results in 4X the FLOPs in throughput. Actual results with production silicon may vary. ROM-04 ii
Not what you're looking for? Check out our archives for more content
Blog Archive
From Silicon to Cloud
Turnkey IT Solutions that scale to meet customers needs