BIOS IT Blog
Keep up-to-date with everything that's happening at BIOS IT
News and Announcements from GTC19
Yesterday marked the start of GTC2019, which kicked off in the usual style with the keynote delivered by NVIDIA® CEO Jensen Huang. BIOS IT were lucky enough to be onsite at the event and we have summarised the major technology announcements made. Follow us on Twitter and LinkedIn for more.
Huang opened the keynote with this year's word of the day 'PRADA' - Programmable Acceleration of multiple Domains with one Architecture, which sets the tone for the announcements to follow. Starting with news of the CUDA-X AI software development kit (SDK) for GPU-Accelerated Data Science. The latest AI libraries promise massive speed boosts to anyone working in data analytics, machine learning and deep learning in some cases by 50X. It's already integrated into major deep learning frameworks such as TensorFlow, PyTorch and MXNet and is freely available as individual downloads or as containerized software stacks from the NVIDIA NGC software hub. BIOS IT can offer access to customers via its cloud platform providers vScaler - contact us for more information.
For more visit: https://blogs.nvidia.com/blog/2019/03/18/cuda-x-ai-data-science/
The Keynote was split into 3 chapters, Graphics, AI and Robotics.
GTC19 Chapter 1: Graphics
RTX Server Lineup Expands
Huang introduced the latest RTX Server configuration, comprising of 1,280 Turing GPUs on 32 RTX blade servers, which offer a monumental leap in cloud-rendered density, efficiency and scalability.
Each RTX blade server packs 40 GPUs into an 8U space and can be shared by multiple users with NVIDIA GRID vGaming or container software. Mellanox technology is used as the backbone storage and networking interconnect to deliver the apps and updates instantly to thousands of concurrent users.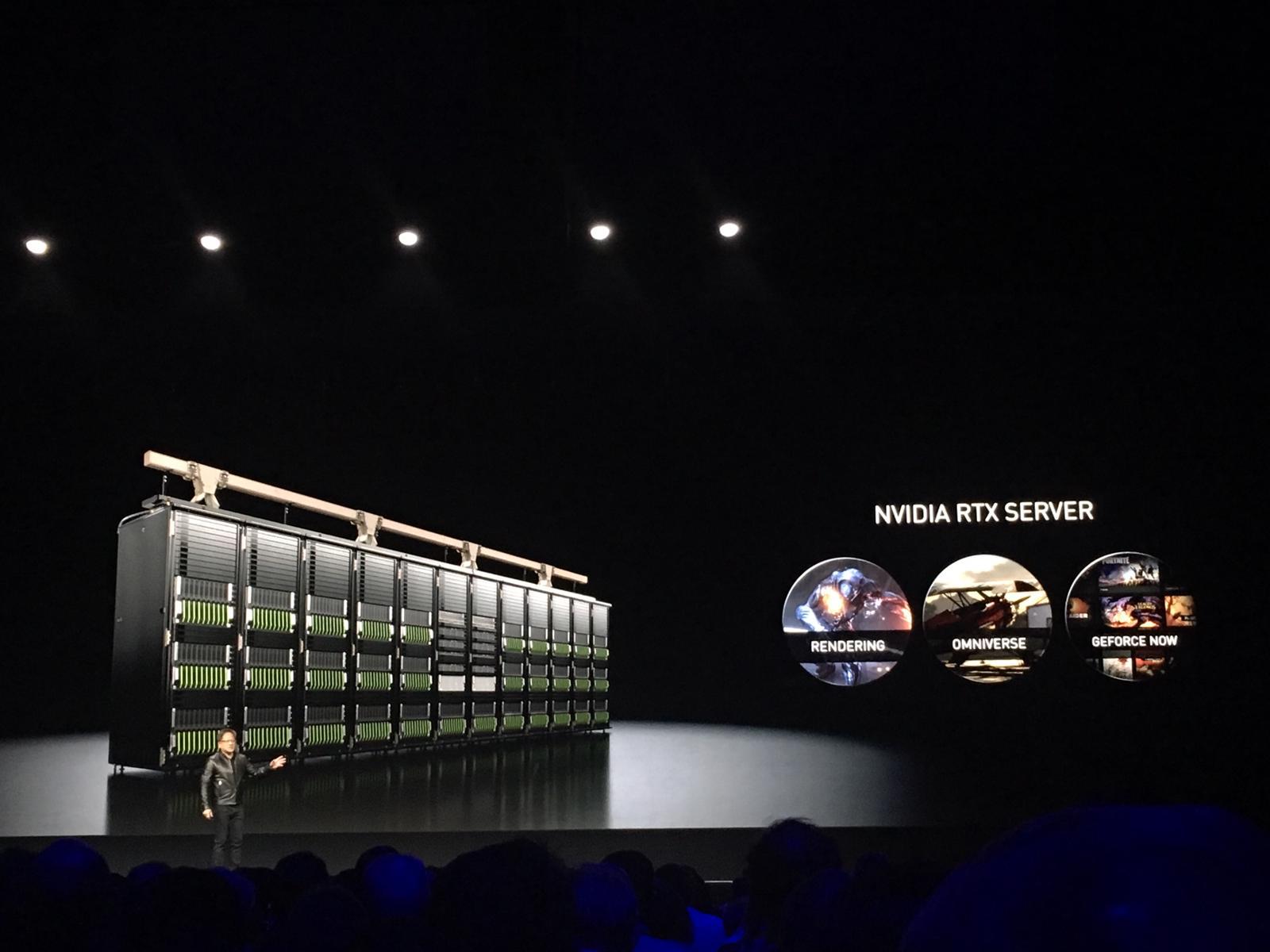 Whether working on content creation on the desktop or batch and final frame rendering in the data center, users of NVIDIA RTX Servers can tap into GPU-accelerated rendering and performance at a fraction of the cost, space and power requirements of a CPU render farm.
Omniverse is unveiled
NVIDIA Omniverse is an open collaboration platform to simplify studio workflows for real-time graphics. The platform enables teams to interactively work together to create and render scenes using industry-standard 2D and 3D software from anywhere in the world. Artists can see live updates made by other artists working in different applications. They can also see changes reflected in multiple tools at the same time.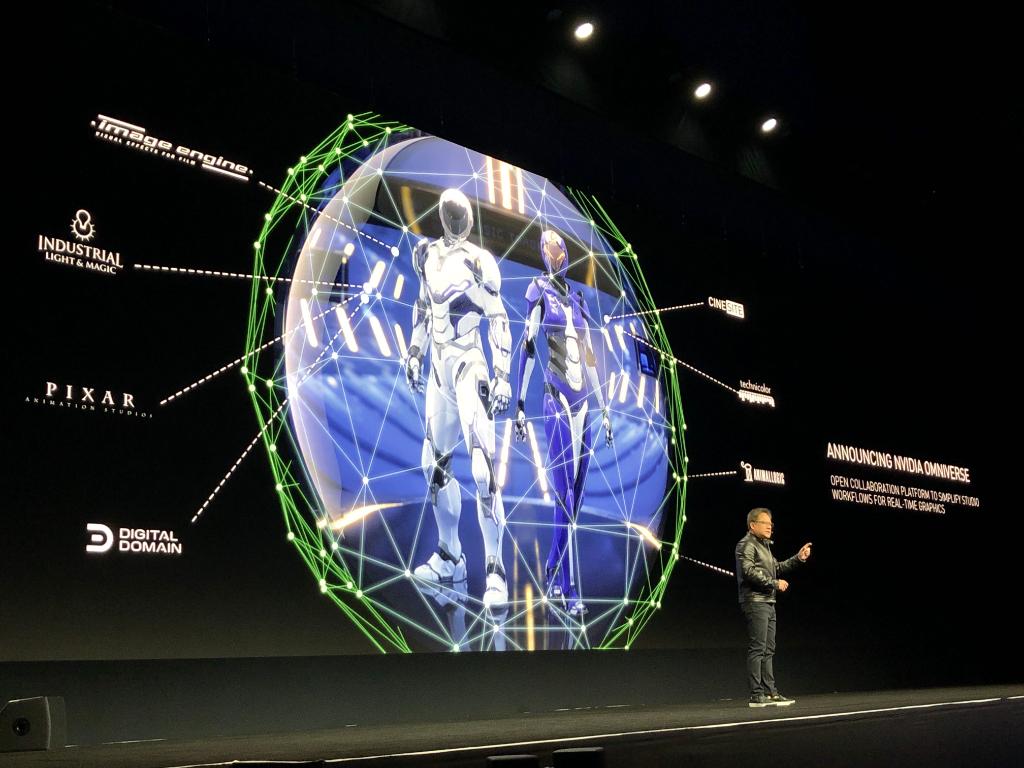 Image source: NVIDIA
Artists can also be able to view updates made in real time through NVIDIA's Omniverse Viewer, which gives users a live look at work being done in a wide variety of tools and which was impressivly demonstrated during the keynote.
Chapter 2: AI and Machine Learning
Clara AI toolkit for radiology
Clara AI is a toolkit that includes 13 state-of-the-art classification and segmentation AIs, and software tools built for radiologists enabling them to deliver AI-assisted annotation, adapt AI for their patients, and deploy it in the hospital.
Labeled data is critical to build safe and robust AI, but radiologists' time is too precious to spend hours labeling datasets. The Clara AI assisted annotation capability speeds up the creation of structured datasets, enabling annotations in minutes instead of hours.
Ohio State University, National Institutes of Health Clinical Center and the University of California in San Francisco are currently using the scalable Clara AI infrastructure to enable the seamless creation, testing, and deployment of multiple AI algorithms across departments.
For more visit: https://blogs.nvidia.com/blog/2019/03/18/clara-ai-gtc/

A New Data Science Workstation powered by T4 GPUs
NVIDIA unveils the new Data Science workstations, integrating NVIDIA Quadro RTX GPUs and NVIDIA CUDA-X AI, promising a massive productivity boost for data analytics, machine learning and deep learning. The systems provide the extreme computational power and tools required to prepare, process and analyze the massive amounts of data used in fields such as finance, insurance, retail and professional services.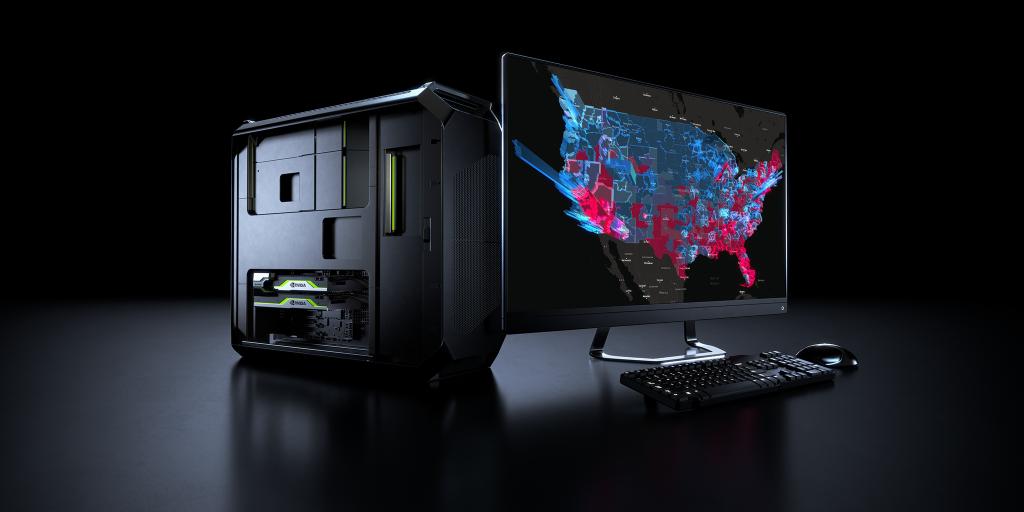 Image source: NVIDIA
These new workstations for data science are based on a powerful reference architecture made up of dual, high-end NVIDIA Quadro RTX™ GPUs and NVIDIA CUDA-X AI™ accelerated data science software, such as RAPIDS™, TensorFlow, PyTorch and Caffe. Dual, high-end Quadro RTX GPUs — Powered by the latest NVIDIA Turing™ GPU architecture and designed for enterprise deployment, dual Quadro RTX™ 8000 and 6000 GPUs deliver up to 260 teraflops of compute performance and 96GB of memory using NVIDIA NVLink® interconnect technology. Quadro RTX-powered data science workstations provide the capacity and bandwidth to handle the largest datasets and compute-intensive workloads as well as the graphics power required for 3D visualization of massive datasets, including VR.
Contact us for a quotation or for more information.
Mellanox announcement
Following on from the official announcement last week, Jensen invited Eyal Waldman, the President of newly acquired Mellanox Technologies to the stage. The acquisition unites two of the world's leading companies in high performance computing (HPC). Together, NVIDIA's computing platform and Mellanox's interconnects power over 250 of the world's TOP500 supercomputers and have as customers every major cloud service provider and computer maker.
"We share the same vision for accelerated computing as NVIDIA," said Eyal Waldman, founder and CEO of Mellanox. "Combining our two companies comes as a natural extension of our longstanding partnership and is a great fit given our common performance-driven cultures. This combination will foster the creation of powerful technology and fantastic opportunities for our people."

Jetson nano $99
The 'tiny but mighty' Jeston nano, retailing at only $99 for the devkit and $129 for the production-ready module, fits in the palm of your hand and runs the entire CUDA-X software stack. Delivering 472 GFLOPS of compute performance for running modern AI workloads, the small but powerful AI computer is highly power-efficient, consuming as little as 5 watts.




Image source: NVIDIA
Key Features:
GPU: 128-core NVIDIA Maxwell™ architecture-based GPU
CPU: Quad-core ARM® A57
Video: 4K @ 30 fps (H.264/H.265) / 4K @ 60 fps (H.264/H.265) encode and decode
Camera: MIPI CSI-2 DPHY lanes, 12x (Module) and 1x (Developer Kit)
Memory: 4 GB 64-bit LPDDR4; 25.6 gigabytes/second
Connectivity: Gigabit Ethernet
OS Support: Linux for Tegra®
Module Size: 70mm x 45mm
Developer Kit Size: 100mm x 80mm
At such a low price point, the Jetson Nano Developer Kit will enable a new wave of innovation from makers, inventors, developers and students. They can build AI projects that weren't previously possible and take existing projects to the next level — mobile robots and drones, digital assistants, automated appliances and more.
Read the press release from NVIDIA in full here or contact us for more information.
Chapter 3: Robotics & Automotive
Drive AV Safety Forcefield
NVIDIA announced an addition to its NVIDIA DRIVETM portfolio with a planning and control layer designed to enable a safe and comfortable driving experience featuring 'Safety Force Field™ (SFF™)' a robust driving policy that protects the vehicle, its occupants and other road users.
SFF analyzes and predicts the dynamics of the surrounding environment by taking in sensor data and determining a set of actions to protect the vehicle and other road users and has undergone validation using real-world data and bit-accurate simulation, including scenarios involving highway and urban driving that would be too dangerous to recreate in the real world.
"By removing human error from the driving equation, we can prevent the vast majority of collisions and minimize the impact of those that do occur," said David Nister, vice president of Autonomous Driving Software at NVIDIA. "SFF is mathematically designed such that autonomous vehicles equipped with SFF will, like magnets that repel each other, keep themselves out of harm's way and not contribute to unsafe situations."
Read the press release in full here or contact us for more information.

Drive constellation
Huang announces that the hotly anticipated NVIDIA DRIVE Constellation™ autonomous vehicle simulation platform is now available.
The platform uses high fidelity simulation to create a safer, more scalable, and more cost-effective way to bring self-driving cars to our roads. It uses the computing horsepower of two different servers to deliver a revolutionary, scalable, cloud-based computing platform, capable of generating billions of qualified miles of autonomous vehicle testing.
As an open platform, users can integrate their own world models, vehicle models, sensor models and traffic scenarios to create a comprehensive and diverse testing environment. DRIVE Constellation users can leverage those modules from ecosystem partners to customize and build simulation testing that meets their needs.
NVIDIA also announced today that Toyota Research Institute-Advanced Development is the first customer of DRIVE Constellation.
"We believe large-scale simulation tools for software validation and testing are critical for automated driving systems," said Dr. James Kuffner, CEO of TRI-AD.
For more visit: https://www.nvidia.com/en-us/self-driving-cars/drive-constellation/
For more details on any of the above announcements and solutions, or to discuss your Graphics, AI or Autonomous requirements please contact us.
Not what you're looking for? Check out our archives for more content
Blog Archive
From Silicon to Cloud
Turnkey IT Solutions that scale to meet customers needs