BIOS IT Blog
Keep up-to-date with everything that's happening at BIOS IT
Intel® Xeon® processor E5-2600 v4 product family
Introduction
The Intel® Xeon® processor E5-2600 v4 product
family was finally unveiled earlier this month. Codenamed 'Broadwell', the new v4 SKUs offer several enhancements over the existing Haswell core featured in the current Intel® Xeon® processor E5-2600 v3 product family, yet remains compatible with the existing set of servers and mainboards in Supermicro's X10 DP range. The benefits of 'Broadwell' can be easily summarised as more cores and faster/improved memory compatibility for the same power consumption, as outlined in the table below:
Feature
Xeon® processor E5-2600 v2(Ivy Bridge-EP)
Xeon® processor E5-2600 v3(Haswell-EP)
Xeon® processor E5-2600 v4(Broadwell-EP)
Cores Per Socket
Up to 12
Up to 18
Up to 22
Threads Per Socket
Up to 24 threads
Up to 36 threads
Up to 44 threads
Last-level Cache (LLC)
Up to 30 MB
Up to 45 MB
Up to 55 MB
QPI Speed (GT/s)
Up to 8.0 GT/s
2x QPI 1.1 channels 6.4, 8.0, 9.6 GT/s
PCIe* Lanes/ Controllers/Speed(GT/s)
40 / 10 / PCIe* 3.0 (2.5, 5, 8 GT/s)
Memory Population
4xDDR3 Channels, RDIMM, UDIMM, LRDIMM
4 channels of up to 3 RDIMMs or 3 LRDIMMs
+ 3DS LRDIMM
Max Memory Speed
Up to 1866
Up to 2133
Up to 2400
TDP (W)
150 (Workstation), 130
160 (Workstation only), 145, 135, 120, 105, 90, 85, 65, 55
A tick in the Intel® tick/tock release schedule, 'Broadwell' brings a more streamlined manufacturing process based on 12nm technology which naturally enhances power consumption and allows for better clock frequencies at equivalent or lower TDP's than its predecessor. See the results from comparing two popular SKU's across the v3 and v4 range:
| | E5-2650 v3 | E5-2680 v3 | E5-2650 v4 | E5-2680 v4 |
| --- | --- | --- | --- | --- |
| CPU Base Frequency (GHz) | 2.3 | 2.5 | 2.2 | 2.4 |
| Cores | 10 | 12 | 12 | 14 |
| Threads | 20 | 24 | 24 | 28 |
| Level 3 Cache (MB) | 25 | 30 | 30 | 35 |
| Memory Channels | Quad | Quad | Quad | Quad |
| TDP (Watts) | 105 | 120 | 105 | 120 |
Utilising these additional cores, performance naturally increases between generations, however for those applications which are single threaded or prefer to use fewer cores Intel® still offers a frequency optimised set of processors, the flag ship of which is the E5-2637 v4, a 4 core part with a base frequency of 3.5GHz, which can turbo to up 3.7GHz when conditions allow.
Preliminary Benchmarks
We have performed a series of benchmarks to give an idea of the kind of performance benefits which you might see in your real world applications. All benchmarks are collected from the same system with default BIOS settings and fully updated drivers for all hardware. If you'd like to know more about the system in question or our results, please get in touch..
Our results are colour coded to show newer v4 processors in gold, against v3 which are coloured in grey.
Cinebench 15 – Windows 64-bit
A test suite designed to test your systems performance in relation to Maxon's 4D Cinema modelling software. It measures Open GL, CPU (multi-threaded) and CPU (single thread) performance. The test itself renders a photorealistic scene by breaking it up into tiles, then sending one of those to each core to be rendered – this makes it an excellent benchmark for multi-core operations with real world applications.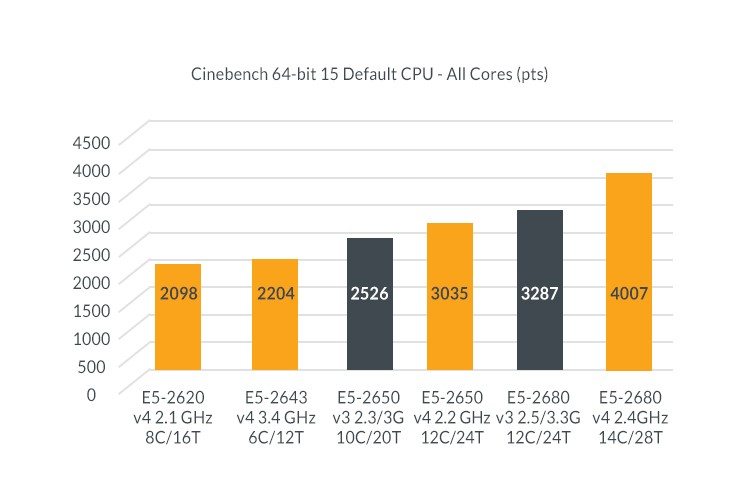 Results measured in points – the higher the result, the better the performance.
Intel® Optimised Linpack – Linux 64-Bit
Intel® Linpack is well known in the industry as being the de facto benchmark for analysing the performance of processors for mathematical / scientific performance. It's often used as a measure of how compute clusters compare and is even used as a yardstick to measure the coveted Top 500.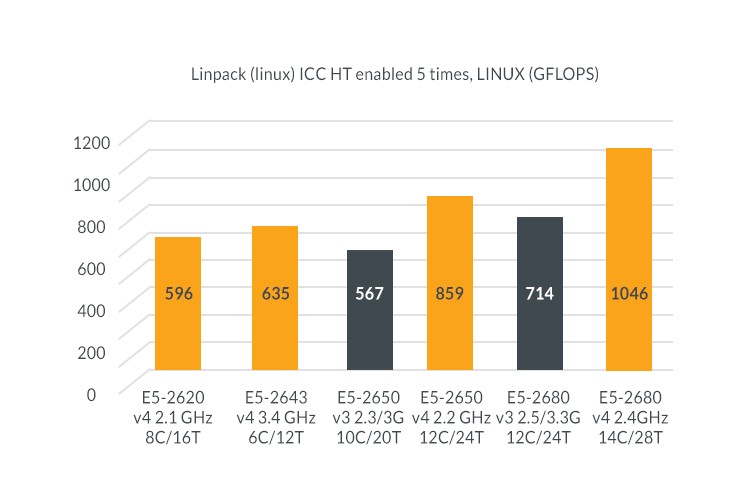 Results measured in GFLOPS – the higher the result, the better the performance.
Stream – Linux 64-Bit
A benchmark that exclusively looks at memory bandwidth, Stream is widely accepted as the standard for measuring transfer speed. With the improvement in DDR-4 memory performance of approximately 12% raw clock speed, it is interesting to see how this benchmark realises that difference.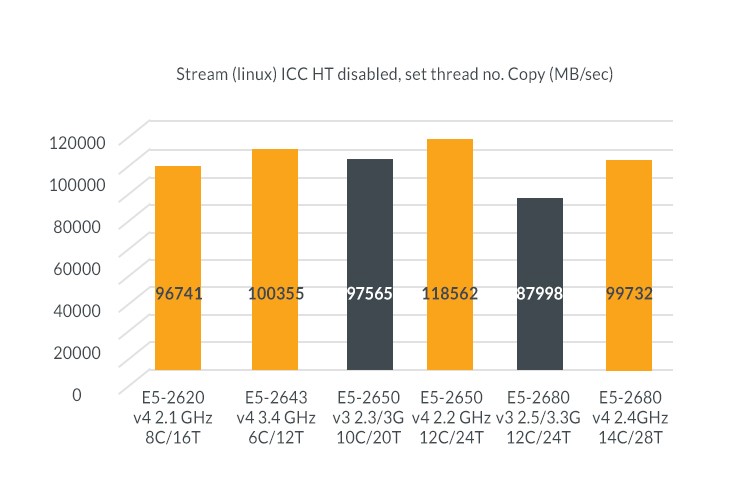 Results measured in MB/s – the higher the result, the better the performance.
Power Consumption Linpack Load – Inline Power Meter
We measured the power consumption of a complete system including all other components at the wall, then stress tested the system with the Intel® Linpack benchmark and recorded the results. Small gains in power consumption can be seen as a result of the new process – great news; especially with the enhanced performance delivered in tandem.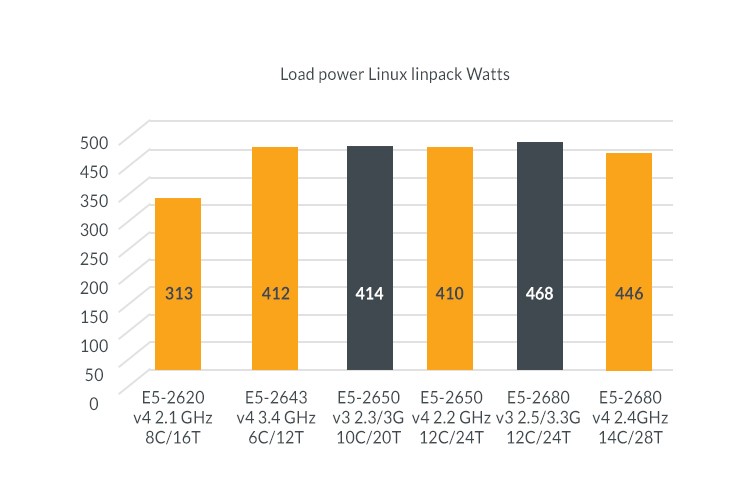 Results measured in Watts – the lower the result, the less power is consumed
Contact BIOS IT today to discuss these results and our Intel® Xeon® processor E5-2600 v4 product family compatible solutions.
Not what you're looking for? Check out our archives for more content
Blog Archive
From Silicon to Cloud
Turnkey IT Solutions that scale to meet customers needs