BIOS IT Blog
Keep up-to-date with everything that's happening at BIOS IT
NVME SUPERSERVER 24X HOT-SWAPPABLE PCIE ENABLED HARD-DRIVES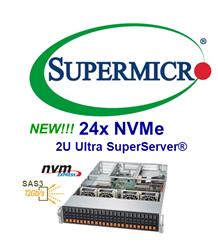 BIOS IT is pleased to announce Supermicro's unveiling of its 24 drive NVMe enabled Superserver, allowing all drives to utilise the super-fast PCIe bus. The 2U server supports the latest generation in server hardware (Intel Xeon E5 v3, DDR4 and has 2x 10G ports onboard).
Non-volatile memory express, also known as NVMe or NVM Express, is a specification that allows a solid-state drives to make effective use of a high-speed PCIe bus in a computer
The primary benefits of NVMe with PCI-E-based SSDs are improved scalability and latency, lower power consumption and low cost, in comparison to SAS-based or SATA-based SSDs, through the streamlining of the I/O stack.
Supermicro is the first to market with hot-plug capability for NVMe drives. This feature allows easy addition of storage capacity through the addition of SSDs, the replacement of existing SSDs with higher capacity units, or replacement of failed drives. Additionally, the hot-plug feature protects against surprise removals, random device failures, or operator errors. Software hardening from Supermicro on its NVMe server product line provides an excellent protection against these all too-common data centre issues.
Supermicro SuperServer NVMe enabled systems offer excellent Performance and Latency, provide unmatched hot-plug capability, and are available immediately in a variety of attractive models. Contact BIOS IT for more information.
Not what you're looking for? Check out our archives for more content
Blog Archive
From Silicon to Cloud
Turnkey IT Solutions that scale to meet customers needs