BIOS IT Blog
Keep up-to-date with everything that's happening at BIOS IT
NVIDIA GRID 2.0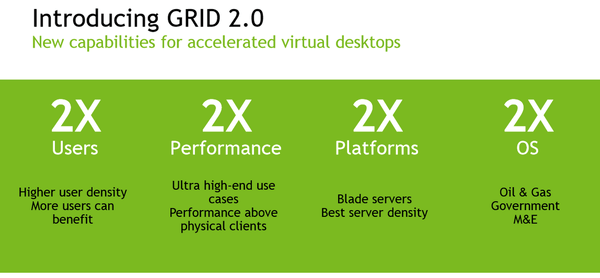 Last month NVIDIA launched NVIDIA GRID 2.0 with broad industry support for its ability to deliver even the most graphics-intensive applications to any connected device virtually.
NVIDIA GRID 2.0 delivers unprecedented performance, efficiency and flexibility improvements for virtualized graphics in enterprise workflows. Employees can work from almost anywhere without delays in downloading files, increasing their productivity. IT departments can equip workers with instant access to powerful applications, improving resource allocation. And data can be stored more securely by residing in a central server rather than individual systems.
Doubled user density
NVIDIA GRID 2.0 doubles user density over the previous version, introduced last year, allowing up to 128 users per server. This enables enterprises to scale more cost effectively, expanding service to more employees at a lower cost per user.
Doubled application performance
Using the latest version of NVIDIA's award-winning Maxwell™ GPU architecture, NVIDIA GRID 2.0 delivers twice the application performance as before -- exceeding the performance of many native clients.
Blade server support
Enterprises can now run GRID-enabled virtual desktops on blade servers -- not simply rack servers -- from leading blade server providers.
Linux support
No longer limited to the Windows operating system, NVIDIA GRID 2.0 now enables enterprises in industries that depend on Linux applications and workflows to take advantage of graphics-accelerated virtualization.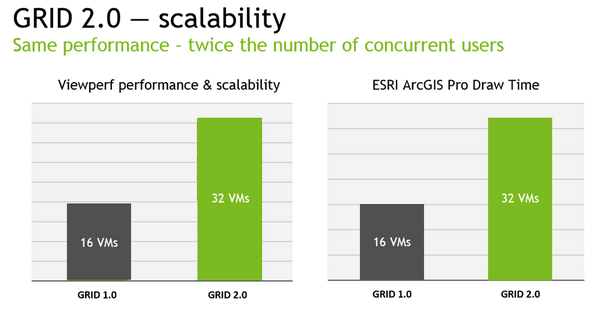 BIOS IT offers multiple GRID ready servers at all performance levels.

2U Server
Up to 6x GRID GPU's


4U Tower ,Up to 4x GRID GPU's
Talk to us about how your business can utilize GRID 2.0 to accelerate your virtual workloads today.
Not what you're looking for? Check out our archives for more content
Blog Archive
From Silicon to Cloud
Turnkey IT Solutions that scale to meet customers needs