BIOS IT Blog
Keep up-to-date with everything that's happening at BIOS IT
Dizzyingly fast data with Diablo
Traditionally, there has been a large gap between compute performance and storage capability. Increasing data demands have contributed to innovations such as Memory Channel Storage which bypasses traditional storage interfaces and directly presents non-volatile memory (e.g. flash) on the memory subsystem. A very large amount of data capacity is now accessible via the shortest and fastest path possible.
MCS-based products are physically deployed into the same DIMM slots that house DRAM and the first generation of MCS is fully-compatible with the DDR3 protocol. As a result, MCS provides a high-performance persistence layer that is tightly coupled with system memory.
Data now remains local to the CPU and applications, which results in faster, more deterministic response time (a.k.a. latency).
Key Benefits
Leverages the parallelism of the memory channel
Up to tens of terabytes of flash per server
Disruptive lowest latency at the highest most scalable performance
Deployable in all dense server, blade and storage array architectures
Memory Channel Storage Architecture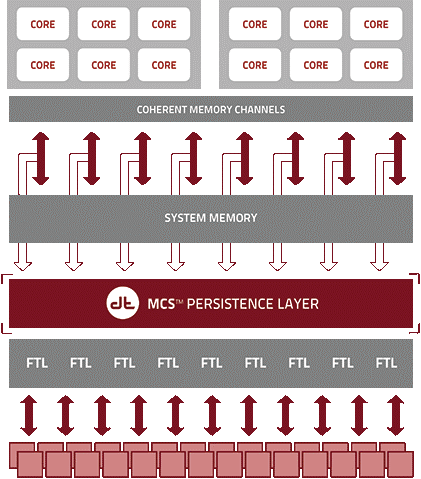 Memory Channel Storage provides a persistence layer directly connected to the processor memory controllers alongside DRAM (system memory), allowing both volatile and non-volatile memory on the same highest bandwidth, lowest-latency bus.
Not what you're looking for? Check out our archives for more content
Blog Archive
From Silicon to Cloud
Turnkey IT Solutions that scale to meet customers needs